People's Poetry Festival – Loft 112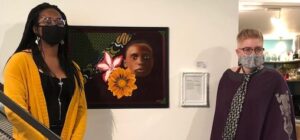 Recognition…Validation…Reassurance – Calgary Public Art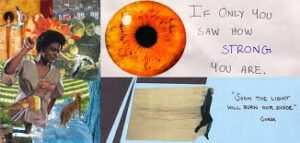 This was a great City of Calgary Public Art project that was initiated and led by Dick Averns. I was honoured to be part of it, in my dual roles as artist and social worker. Please do follow the link below if you'd like to learn more about it:
View From the Inside-WP Puppet Theatre
Courage Journey
These workshops encouraged participants to create body-puppet masks through which they could express their outer and inner selves, their connections to community and memory, and identity through theatrical monologue. I was lucky enough to be part of three of these workshops, encompassing both my roles, as an artist and a mental health support.
Photo 'Graphic' Arts – Studio C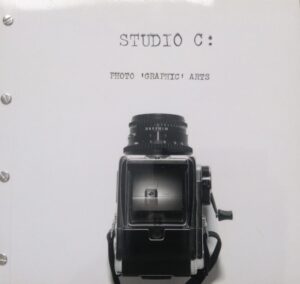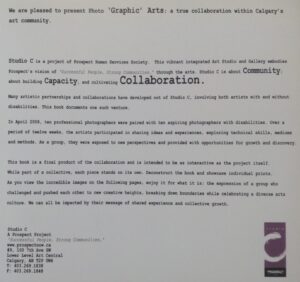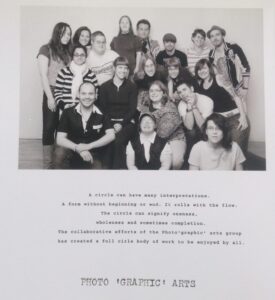 Prospect is an organization working with youth at risk and individuals with mental disability to help connect them with the community and jobs.
Funded by the Alberta Foundation for the Arts and Calgary Arts Development, Davis and the staff at Studio C run 12-week sessions of classes and until July 31, their Photo 'Graphic' Arts exhibit adorns the walls of their space.
"It was curated by 10 practising photographers who were partnered with 10 aspiring photographers with disabilities. Together they learned different processes and learned from each other."
Davis is pleasantly surprised at the results of the exhibit that will see Studio C self-publish a book documenting what they learned from each other.
"Very initially, they were thinking they were going to mentor an aspiring photographer. When they communicated after the fact and spoke to the public and people coming through about the impact they had personally, it was something they didn't expect," said Davis.
"They were surprised at the free creativity that comes from aspiring photographers without conceptions about how it's going to be received." – Excerpt from The Calgary Herald 2008
https://www.facebook.com/events/west-village-theatre/umbrella-visual-arts-conference-3/107797406581979/
https://www.equinoxvigil.ca/
https://blueskiespoetry.ca/about-our-react-collective/
https://www.womenscentrecalgary.org/calling-all-change-makers/
https://www.womenscentrecalgary.org/women-rising-up/
https://www.elizabethhousecalgary.ca/